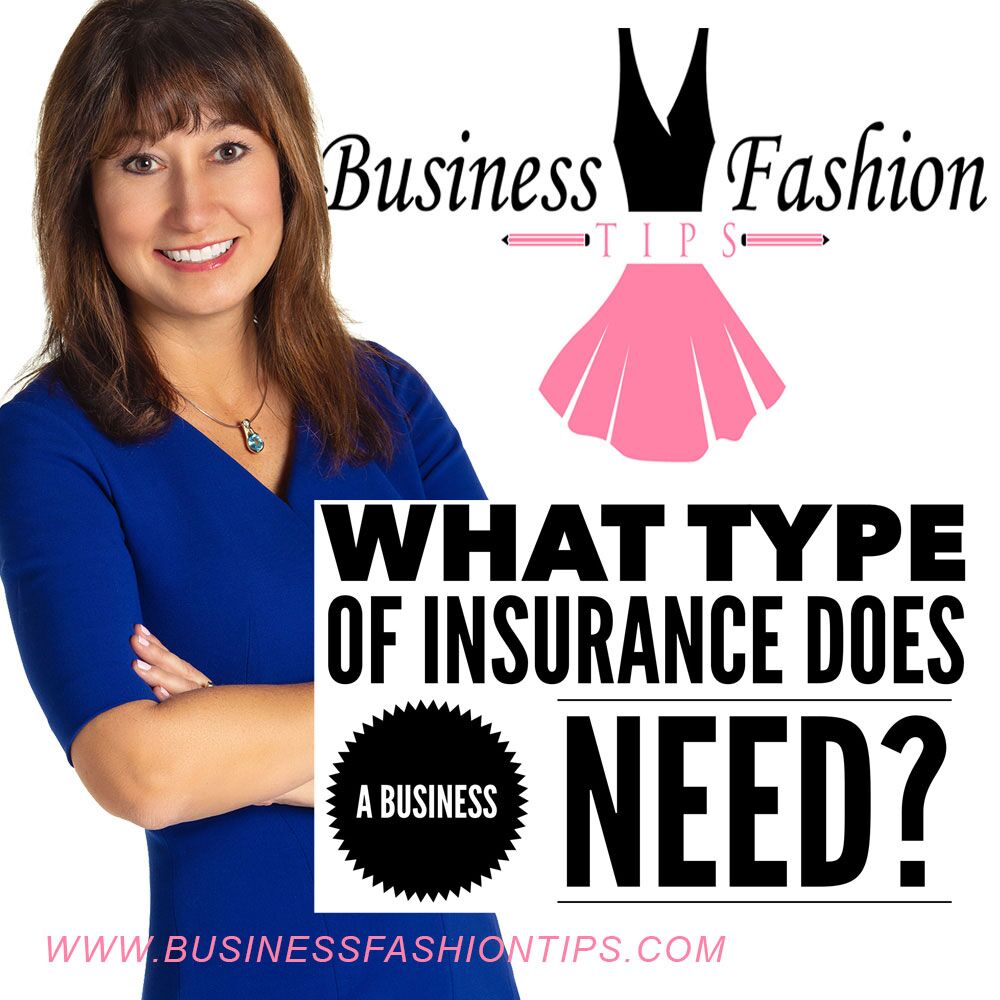 What type of insurance does a business need
to listen, click the arrow below...
What types of insurance does your business need?
The Business Fashion Tips Podcast
Episode 12
There are so many different types of insurance that a business could need or is required to have that it will make your head spin. I am not an insurance agent, so I cannot tell you what type of insurance your particular business will need. What I can tell you is about the various types of insurance that I had to carry or still carry at some point during my professional career. So this podcast will give you some ideas as to what to expect for the types of insurance policies you will need.
One other thing to consider is that some policies cover more than one type of insurance. For instance, a general liability insurance policy may sometimes also cover product insurance. Each policy is different, so I highly advise you to find an insurance agent that you can trust and who will take the time to walk you through the best types of insurance for you. Keep in mind that some insurance companies claim that they will cover your insurance claims, which they do, no questions asked, and some say they will cover your bills, but when you file a claim, they fight it tooth and nail. So some insurance companies may cost more, but they will be there for you when you need them to be. Others may cost less, but when you have a claim, they are nowhere to be found or make it super difficult.
So let's go through the insurance policies I needed at some point or another for my business.
GENERAL LIABILITY INSURANCE:
I would never be without general liability insurance. General liability insurance protects your company should someone hurt themselves while in your business. So let's say someone falls down on the ice outside your store and sues your company for not getting rid of the ice by sprinkling salt and shoveling. It also covers property damage to someone else's personal belongings. It also protects you from personal injury if someone tries to harm your reputation by making libelous or slanderous statements about you. I have never been without general liability insurance.
COMMERCIAL UMBRELLA INSURANCE:
If your general liability insurance only goes up to $1 million, but you would like to be extra careful and be covered up to $10 million, you will need an additional policy to cover the extra $9 million. This is called commercial umbrella insurance. Commercial umbrella insurance extends the coverage limits. If a claim exceeds the dollar limits on your policy, your umbrella insurance can help cover the difference.
PROFESSIONAL LIABILITY INSURANCE:
I mentioned, general liability insurance covers physical risks, such as bodily injuries and property damage. Professional liability insurance covers lawsuits that claim you made a mistake in the professional services you provided to your customers. In other words, it covers negligence when you make a mistake or don't use a reasonable duty of care when performing your service. It is also known as errors and omissions (E&O) insurance and professional indemnity insurance. If you give someone bad advice but it turns out to be a disaster, that is when professional liability insurance can come in handy. If you unknowingly damage someone else's reputation by defamation, libel, or slander and it causes emotional distress or mental anguish, you are covered by professional liability insurance. It covers copyright breaches when someone says you copied their idea. It also covers breach of confidentiality. So if you signed an NDA and accidentally told someone about the item in the NDA, you could be covered. I once had an accountant fax me another company's tax returns. If this had been my company, I couldn't tell you how angry I would have been.I immediately knew everything about this company by looking at the fax that was sent to me. That company could have sued that accountant, and the accountant should have professional liability insurance if he's going to continue to do this.
COMMERCIAL PROPERTY INSURANCE:
Commercial property insurance protects the building you may own or rent, what's inside it or on its premises, and the equipment you use to run your business. While I was renting a space for my business, my lease said I had to have commercial property insurance and name the landlord as another benefactor, which means they are also covered under my policy. It didn't cost anymore to have them on the policy. Once I built my first building, the coverage was changed to cover my building, and my bank insisted I have commercial property insurance. It's intended for tangible property, not monetary property.
BUSINESS CRIME INSURANCE:
Sometimes there is a gap between what your commercial property insurance will cover, so that is when you may want to look into business crime insurance. Business crime insurance is another type of coverage specifically designed to protect businesses from theft and fraud. And it takes care of some of the incidentals that commercial property insurance may not cover.
BUILDERS' RISK INSURANCE:
While I was building the building, I needed builders' risk insurance. This is a policy that protects a building under construction against theft or vandalism. It also covers the tools and materials that are being used to build the building.
CONTRACTORS GENERAL LIABILITY INSURANCE:
And I had to make sure my contractor had contractors' general liability. This insurance protects the contractor's workers and anyone else on my property during construction who could get hurt.
COMMERCIAL FLOOD INSURANCE:
If you build a building and it happens to be in a flood zone, regular commercial property insurance won't cover you. You need commercial flood insurance to cover damage from earthquakes or floods.
BUSINESS INCOME INSURANCE:
If your property is damaged and that puts your business out of business temporarily because you are without a location, you may want to consider having business income insurance, also known as business interruption insurance. Business income insurance pays for ongoing expenses like a new place to rent, utility bills, and payroll during your shutdown. It basically replaces your lost income.
BUSINESS EQUIPMENT INSURANCE:
You may also want to consider business equipment insurance. Business equipment insurance covers loss, theft, and damage to any equipment owned by your company. If you work out of a co-working space and your equipment is stolen while locked up in a shared space or someone takes your laptop, tools, or equipment, you're covered. Keep in mind that if you go to a restaurant and leave your laptop to get a refill on a Pepsi or something and someone steals it, you are generally not covered because your insurance will consider this your fault for being irresponsible.
PUBLIC LIABILITY INSURANCE:
If your business puts you in the public eye, like an event coordinator, public liability insurance coverage may be something you'd like to consider. This covers those professionals who work in the public domain. If someone is injured because of something you did, or if you damage someone else's property. Let's say you walk by an artist's booth that has glass in it, and you fall into and break one of their pieces. Public liability insurance could come in handy.
PRODUCT LIABILITY INSURANCE:
If you manufacture your own products, you may want product liability insurance. This will protect you from design flaws, manufacturing and production defects, damages or injuries that are brought up from product malfunctions or during normal use of a product that was sold or a project that was completed, and it can protect you from inadequate warnings or instructions (in the book I have coming out in the near future, I go over some specifics of what needs to be on your product labels, so you may want to sign up for our newsletter so we can keep you informed when the book hits bookstores).
Product liability insurance also protects you against financial claims for bodily harm or property damage if someone claims that your product injured them or contained a dangerous defect. Just note: if a person altered your product and then was hurt, you would not be liable. That doesn't mean someone can't sue you. Someone can sue you over anything.
APPAREL INSURANCE:
For fashion designers there is apparel insurance and sometimes this includes general liability insurance or product liability insurance. Make sure you are not paying twice for different types of insurance when you don't need to. It includes customer bodily damage (if a customer damages your merchandise), personal injury, and copyright infringement, and it generally covers what is covered under product liability insurance.
WORKERS COMPENSATION INSURANCE:
When it comes to your employees, you need workers' compensation insurance. In my home state of Minnesota, all employers are required to provide workers' compensation insurance coverage to all employees. Whether this is required or not varies from state to state, so check your state guidelines. If you don't have your employees covered, you risk fines, penalties, and possibly criminal charges. And they must also provide coverage to non-US citizens and minors. This gives your employees benefits if they become sick or get hurt doing their job. It pays for their medical bills, replaces their lost wages, covers funeral costs and provides death benefits to the families of the employees who may have been killed on the job, and pays for ongoing care like physical therapy. Workers' compensation also covers business owners who are considered employees of the company.
This type of insurance keeps going up in price for every claim that you have. However, I know businesses that have cut their workers' compensation insurance in half. And I give out these tips in the book I have coming out, so I don't want to give away what's in the book. So if you find that you keep having workers' compensation claims, you may want to read my book, which will be out soon.
Disability insurance is available to continue paying your salary if you become ill, have an accident, or are otherwise unable to work.
LIFE INSURANCE:
I had to get life insurance to cover my spouse when I took out a mortgage to build one of my buildings. I guess. This way the bank was assured that they would get paid should something happen to me.
DATA BREACH INSURANCE:
Data breach insurance, or cyber insurance, helps your business respond to a data breach if information you collected from your customers gets lost or stolen. The insurance will also help with the costs of notifying those customers who had their data stolen and creating a public relations campaign.
COMMERCIAL AUTO INSURANCE:
If your company has a commercial automobile, there is commercial auto insurance that protects you and your employees who drive the company-owned vehicles for business. The coverage helps cover property damage and bodily injury claims from an accident you, someone working for you, or you yourself cause. Note that if an employee drives a company car while on their personal time, and is no longer working, it may not be covered. Note that your personal car insurance policy won't cover third-party claims in an accident that is caused by a business-owned vehicle.
MULTINATIONAL INSURANCE:
If you operate out of the country, multinational insurance should be looked in to.
HOME-BASED BUSINESS INSURANCE:
If you work out of your home, there is home-based business insurance that covers the costs of property and liability risks for businesses that operate out of the owner's home. It also covers supplies, equipment, or other business property that you keep at your home or if you have customers stopping by.
How much is business insurance?
It depends on what type of coverage you need. Make sure to shop around. I never settle for the first insurance policy I find. Just make sure you are comparing apples to apples and read the insurance agencies' reviews. If they won't come through and cover you when you are in need, what's the point of paying. I once had a house in the Bahamas, and a hurricane caused $50,000 worth of damage. Because they had so many claims at once, the Bahamas insurance agency I used would not cover it even though I had hurricane insurance. They used every excuse in the book. I asked what others on the island were doing, and many claimed they had the same issue in the past, and due to the limited number of insurance companies in the Bahamas, they all decided to self-insure (which means putting a little money away for damages each year and covering it themselves). I contacted my attorney, and he said that by the time we get through fighting them, it may cost $50,000, so you may be better off just paying it out of your pocket. I also had an insurance claim in the USA where the company said the agent didn't cash the insurance payment check I made out to the agent until 2 days after an incident occurred. I took that insurance company to court, and we proved the day I met with the agent and gave him the check coincided with the date written on the check, and it was 3 days prior to the incident occurring. The court ruled in my favor, and they ended up having to pay for my attorney fees and the insurance claim. Due to this, I would never use either of these insurance agencies again. So do your due diligence before just trusting any agency.
HURRICANE INSURANCE
Hurricane insurance does not cover flooding nor fires.
FIRE INSURANCE
Fire insurance is not the same as hurricane nor flooding insurance.

FLOOD INSURANCE:
On the bright side, your insurance policies are considered an expense for your company on your tax documents. And money you receive as part of an insurance claim or settlement is typically not taxed. The IRS only requires you to pay tax on income, which is money received that results in you having more wealth than you did before.
It's really mind-boggling how many different types of insurance policies there are, and I only touched on a few of them. One thing is certain, you will need a few different policies, so take the time to make sure you are covered and look into which agency is the best for you.
So that's it for business insurance. If you've been listening to the top 10 steps needed to start your business, congratulations! You made it to the 10th step, so you can now be off and running to start up your business.
I should mention again that I'm coming out with a book that will continue to help you while in business. So make sure to sign up for our newsletter at businessfashiontips.com or DeBoraRachelle.com for future business and fashion tips.
As always, if you have any questions regarding business or fashion, go to anchor.fm/debora-rachelle to leave a message, and I'll try to answer any question you have.
Have a great day!